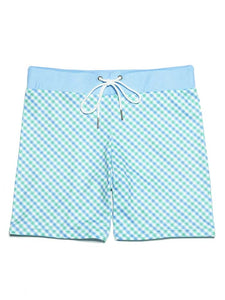 These shorts are created with you in mind, you cool cat. Whether you're strolling through Edgartown or sipping on Endless Summers, the seamless liner and inside pocket of the vineyarder (and all blú suits) allow you the support and freedom you need to follow the adventure, wherever it will take you.
Below the deck...
Our gingham pattern is bright and energetic. Whether you're headed to Chappaquiddick, spent the day boating, lounging on Aquinnah beach or grabbing drinks at The Seafood Shanty our swimsuit is built for your lifestyle!
"Wampanoag" means "People of the First Light." Before Benjamin Gosnold renamed the island Martha's Vineyard in 1602, it was called Noepe by the Wampanoag, meaning "land amid the waters." Many Wampanoag still live on aboriginal lands on the southwestern end of the Island, a 3,400-acre peninsula called Aquinnah. At present, there are over 900 members listed on the Tribal rolls. Of these, approximately 300 reside on Martha's Vineyard.
This colonial period was marked by prosperity as well as peace. The sea provided fish for both export and Island use, and the Wampanoags taught the settlers to capture whales and tow them ashore to boil out the oil, according to the Martha's Vineyard Chamber of Commerce.
product disclaimers
May include overwhelming joy.
May not make it into the washing machine, high risk of inability to remove due to overwhelming joy.
Not responsible if your kids refuse to take it off.
May induce momentary stress from feeling like you forgot to put on pants (but you didn't, our suit is just that comfortable).
Please remind family members, if they forget, they are not naked, they're just in a bathing suit that is THAT comfortable.
features
Drawstrings that actually adjust to your comfort
Easy slip-on ability
Breathable fabric
Stretches for comfort, not for show
Innovative J-stitch design for added support below deck
No mesh liners to mess with
Color fade technology keeps your pattern bright
Choosing a selection results in a full page refresh.
Press the space key then arrow keys to make a selection.