below deck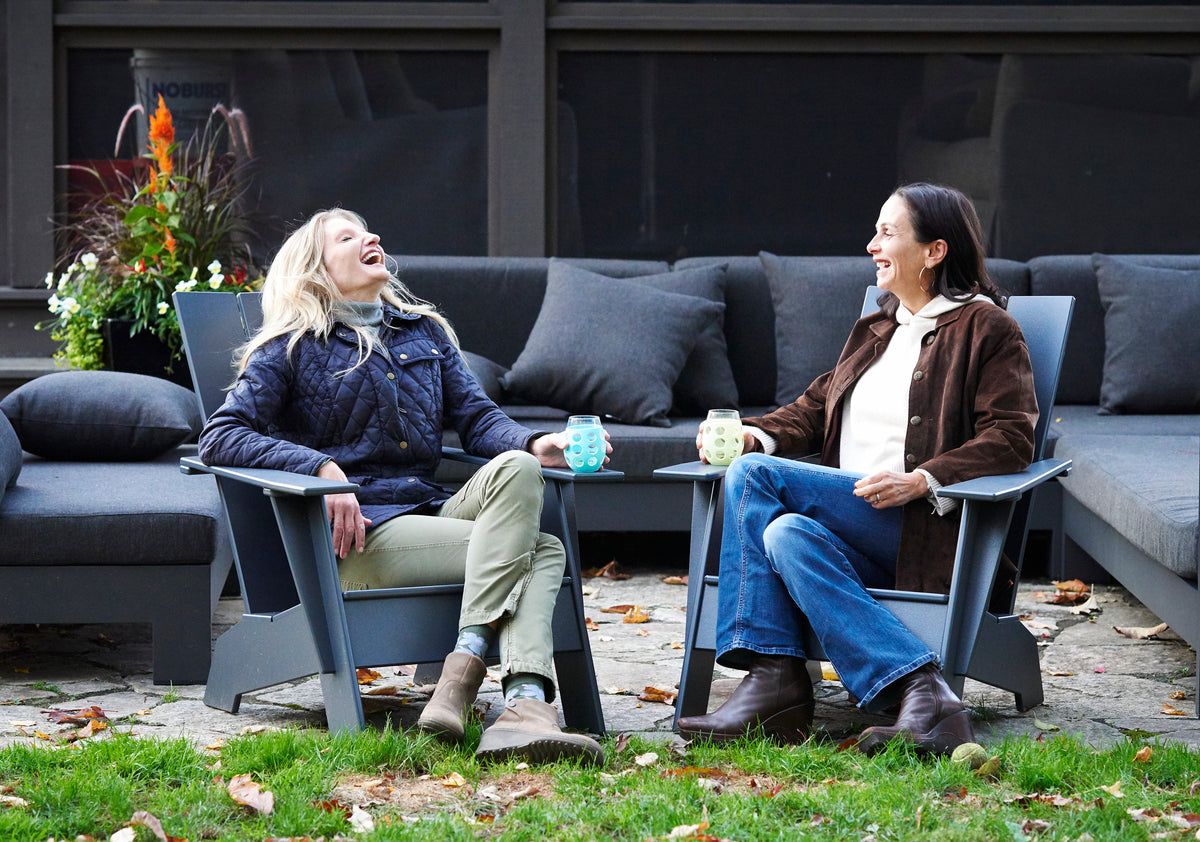 meet blú
Do you remember the first time you blew bubbles underwater and watched them billow to the surface? Remember the glee and freedom you felt as you kicked your way back up to the surface and grabbed that first full breath of fresh air?
blú founders Keri O'Shea and Heather Durst do. From the summers spent in the beautiful Adirondacks, to celebrating Scandinavian heritage, blú was founded to redefine a timeless piece of clothing: the swimsuit. Our collections are Inspired by both founders' trips to open water around the world, these swimsuits are meant to capture the nostalgic summers of your childhood and combine them with modern and adaptable designs to support you in and out of the water. Our suits were made for you.
At blú, we aim to protect our open waters in comfortable, innovative and versatile swimwear that fits like second skin, you'll forget you're wearing them.
our efforts
Our suits are meant to comfortably and confidently protect us from the elements, but what protects our elements?
A healthy ocean means more than beautiful coasts and vibrant ocean wildlife. If the ocean isn't healthy, neither are we. Although we're sure you know that. :) blú proudly donates 5% of sales from every swimsuit to Ocean Conservancy which works with volunteers around the  world on international coastal cleanup. Collectively, we strive to keep our open waters thriving so that we can continue sharing our favorite moments with the ones we love for generations to come.
The Ocean Conservancy is focused on solving some of the greatest threats facing our open waters today. They bring people, science and policy together to champion innovative solutions and fight for a sustainable ocean. From the Arctic to the Gulf of Mexico, the Ocean Conservancy has aggressively fought to protect vital ecosystems, defend critical legislation, enforce accountability of leaders and legislators. They rally the world's largest effort to remove trash from our waters and beaches for over forty years. 
A healthy ocean means a healthy planet.
For more information on Ocean Conservancy, we invite you to visit and support https://oceanconservancy.org.
Faq
where do we ship?
We ship globally! All of our products are available throughout the world.
how much is shipping?
It varies depending on your location. Don't worry - you'll be able to see shipping totals before placing your order.
when will I receive my order?
Orders are typically shipped within 2 days of placing your order and timing varies on your location. In the continental US, you can expect to receive your suit 5-7 days after you've placed your order. During busy, holiday or high-traffic times, we expect there to be delays (we all do). We'll notify you if we anticipate a longer shipping window.
what if I want to return/exchange my order?
Returns and exchanges are only valid if the return or exchange arrives in the same way we shipped it out (original tags untouched on the products). We understand that things may happen, but it's a hygiene thing. 
If your suit was delivered defective for any reason, please contact us. We proudly say that this has never happened before.


what if the swimsuit I want is out of stock?
First of all: Apologies! 
Secondly, we work quickly to replenish our inventory. If we do not have a particular size or pattern in our inventory we will state that on the website and remove the notice when the item is back in stock. Don't forget to sign up for email to stay informed on important updates like these!
how accurate is your size chart?
We recommend going with your regular sizing but want to remind you that our suits are made to have a snug fit. If you want a comfortable, looser fitting suit, we recommend sizing up. 
Our adult swim shorts run small and children's swimswear is true to size.
can women wear these suits?
Yes, girl! Yes. Yes you can! We encourage it. Sign up for email to receive updates about the women's line and more!
is there a women's blú suit?
We have our first women's and girls suits up on the site! Our full line will be launching in Spring 2021.
In the meantime, defy the stereotypes and sport any of the men's suits. They'll fit you perfectly like they do us.
are the suits quick dry?
They are not currently quick dry because of our fabulous inner liner that leaves you intact to move with added support. Our material is incredibly comfortable however and allows you the ability to dive into the water or slide into that lounge chair at a moment's notice.
how exposed are my parts below deck?
While blú suits are made to fit comfortably snug, our double-layer design below deck adds the kind of security that hides the excess and boosts internal confidence - even for the meekest of folks. 
how much wiggle room is there?
You'd be surprised! blú suits are designed to fit comfortably snug, but the drawstrings add additional comfort in big waves, long hikes and even the fullest of bellies after those post-grub ocean side meals. All that to say, the material is incredibly stretchy. 
does the color fade?
blú suits were designed for longevity - we mean that for color, too. Wash these color-safe suits over and over...and over and over...with confidence. The kid's swimsuits have lasted for over two years without any color fading!
our design ethos
your swimsuit should free you.
After endless research, we designed what you were craving a new age swimsuit. Every product is hand-designed by co-founder Keri, hand packaged by Heather, and shipped from New York.
your swimsuit should support you.
When you're swimming, you shouldn't have to worry about your valuables. That's why our suits are designed with a secure interior pocket perfect for a hotel key, car key, or credit card.
your swimsuit should never chafe you.
We'll say that once more for the people in the back you should NEVER feel uncomfortable or get chafed in a swimsuit. Our swimsuits are inforced with a
pouch that offers seamless slip-on ability.
your swimsuit should be long-lasting.
There is nothing worse than finding a rip in your favorite piece of clothing. We carefully source and select all of our technical and innovative materials to
offer you high quality and adaptable swimwear.
your swimsuit should care about the environment.
Ok well, your swimsuit can't, but you can. Each order comes with a waterproof blú bag for your keys, a book, or a beverage so you can fully enjoy nature's outdoors while leaving no trace of your lifestyle behind.
your swimsuit should never chafe you.
By that, we mean your swimsuit should give you confidence in and out of the water. Our swimsuits aren't
just made for swimming, they're made for adventures in any environment.
about our development
From partnering with a fair trade supplier in China to ensuring that our processes contribute to protecting our open waters all the way to delivery at your doorstep, our founders have created a sustainable line of swimwear from the sketch to swim.
We're inspired by the freedom of our childhoods and the ability to see that same freedom expressed in our kids. Freedom in comfort, expression, agility, and purpose is what drives us. That's also why our designs leave mesh liners (and liners in general) back in the nineties where they belong! At blú, we carefully reinforce confidence, security, and ability with a second pouch that offers seamless slip-on ability.
Our colors and patterns are inspired by nature's effervescence and our personal adventures. We took the helm to carefully source our technical and innovative materials are free of any harmful processing. Each swimsuit is designed and inspected in New York to ensure the best quality to ensure you are supported below deck. And, your order is shipped to you in a waterproof bag so that you can continue to keep no trace of your active lifestyle behind.
That childhood feeling of excitement and freedom comes with responsibility: one that promotes goodwill, integrity, and being mindful. We invite you to browse through our collections to learn more about the inspiration behind each suit!